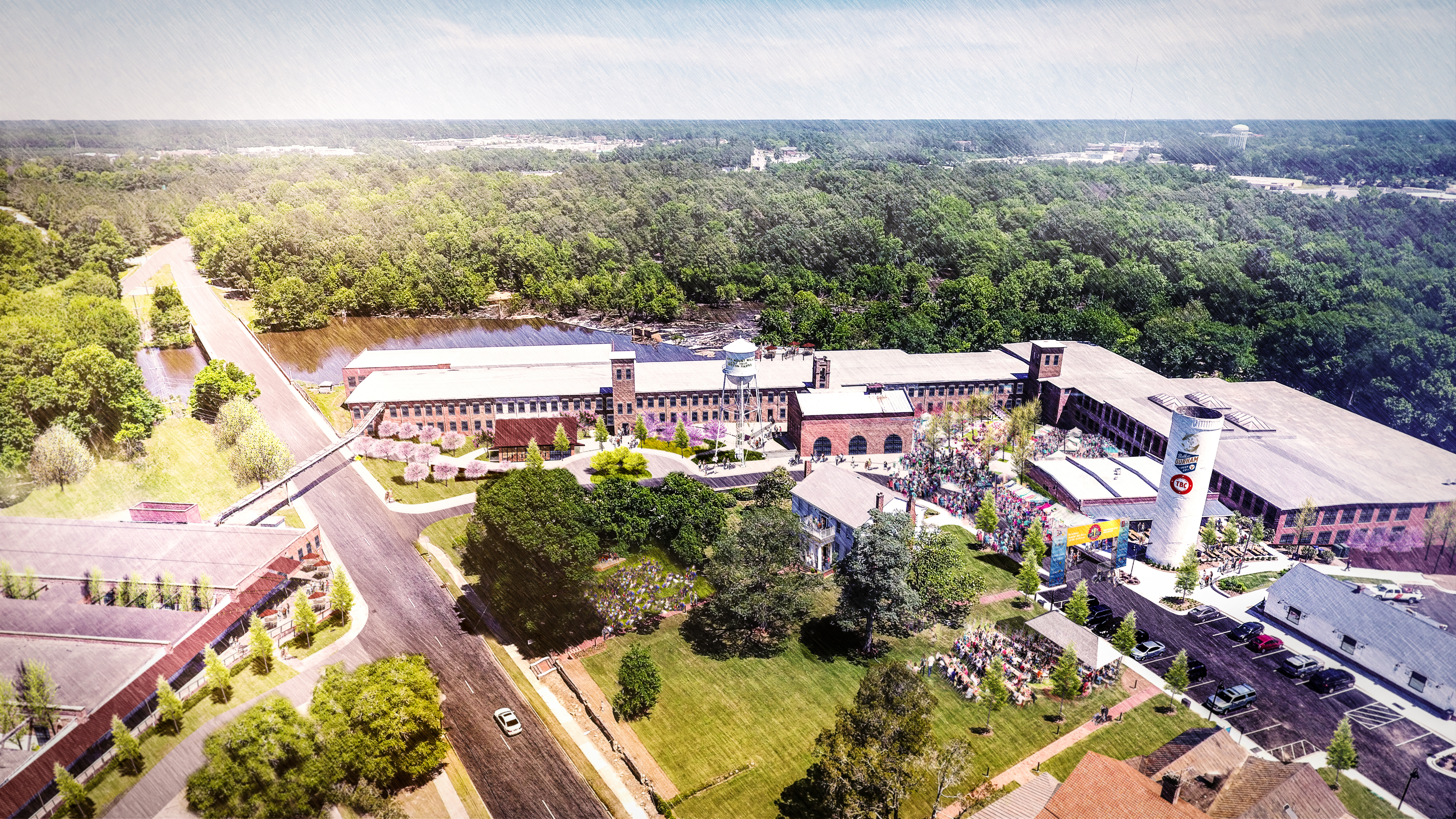 Urban Land Institute to Visit Rocky Mount Mills for Tour, Panel
Triangle Chapter to Discuss Plans for Massive Mixed Use Project with Developer, Local and State Officials, April 25
(Rocky Mount, NC) – April 18, 2018 – The Triangle district council of the Urban Land Institute will make a special, members-only visit to the historic mixed-use community of Rocky Mount Mills on Wednesday, April 25.
More than 50 ULI Triangle members will tour the historic mill buildings (now being renovated for offices, restaurants, breweries, retail destinations and lofts), acreage on the Tar River and homes at the Mill Village community.
They'll also participate in a round table discussion of plans and progress with:
Kenny Flowers (Asst. Secretary of Rural Economic Development, NC Department of Commerce)

Reuben Blackwell (City Councilman, Rocky Mount City Council)

Michael Goodmon (Vice President of Real Estate, Capitol Broadcasting Company)
"We're excited to host ULI and to engage its passionate, knowledgeable members in a discussion of what we're doing here to create what we think will be the premier mixed use destination in Eastern NC and perhaps a model for the potential of such projects in cities similar to Rocky Mount," says RMM Development Director Matt Honeycutt.
ULI Triangle Executive Director Julie Paul adds, "Our members are looking forward to a deep dive into the site – past, present and future. Rocky Mount Mills is an especially intriguing project given the themes of building community, incorporating the river and surrounding parks, and the infusion of new people, businesses and ideas. Also, of course, we look forward to what the restaurants and breweries have to offer."
The ULI tour and panel discussion — part of a series of special happenings as RMM marks its 200th anniversary — are not open to the general public, but interested members of the press should get in touch with Richard Cox, ULI Triangle Senior Associate (richard.cox@uli.org).
ULI Triangle serves eastern half North Carolina, including the Research Triangle area of Raleigh, Durham, Cary and Chapel Hill. The District Council hosts educational programs throughout the year, focusing on North Carolina as well as national issues and trends in the use of land and its relationship to community development. ULI Triangle has approximately 620 members in the region. For more information, please visit: triangle.uli.org.
What's Happening at Rocky Mount Mills…
The reinvention of the historic, 160-acre Rocky Mount Mills is led by Capitol Broadcasting Company (CBC), the same development team that transformed Durham's American Tobacco Campus into an award-winning national model for historic rehabilitation. As the campus prepares for the arrival of its first corporate headquarters (Envolve Vision) in 2019, it's already brimming with things to do:
Restaurants

Tipsy Tomato
Tap at 1918
TBC West: Tacos & Taproom (also brewery)
Breweries and Retail

Koi Pond Brewing Company

Planetary Elixirs (RMM Brewery Incubator)

HopFly Brewing Company (RMM Brewery Incubator)

BDD Brewing Company (RMM Brewery Incubator)

Bull Durham Beer Company (RMM Brewery Incubator)

Goat Island Bottle Shop

Other Events

2018 Science of Brewing Challenge–Finale at Rocky Mount Mills

Pondapalooza, hosted by Koi Pond Brewing Company

Host Site for Non Profit Organizations fundraisers throughout the year including: 5th Annual Meals on Wheels, Beans and Brews; 3rd Annual Young Ambassador Circle's Farm-to-Table; NC Highway Patrol Caisson Unit; Twin Counties Heart Walk; United Way's Sunday Supper

Music in the Garden, hosted throughout the year in the Beer Garden

Weekly Fitness on Campus includes: Rocky Mount Mills Run Club; Yoga and Brews Cruise

Visit the RMMs

event page

to keep up to date with things happening at Rocky Mount Mills
About ULI
Urban Land Institute (ULI) is a 501(c)(3) nonprofit research and education organization supported by its members. Founded in 1936, the Institute now has more than 40,000 members worldwide, representing the entire spectrum of land use and real estate development disciplines, working in private enterprise as well as public service.
The mission of ULI is to provide leadership in the responsible use of land and in creating and sustaining thriving communities worldwide.