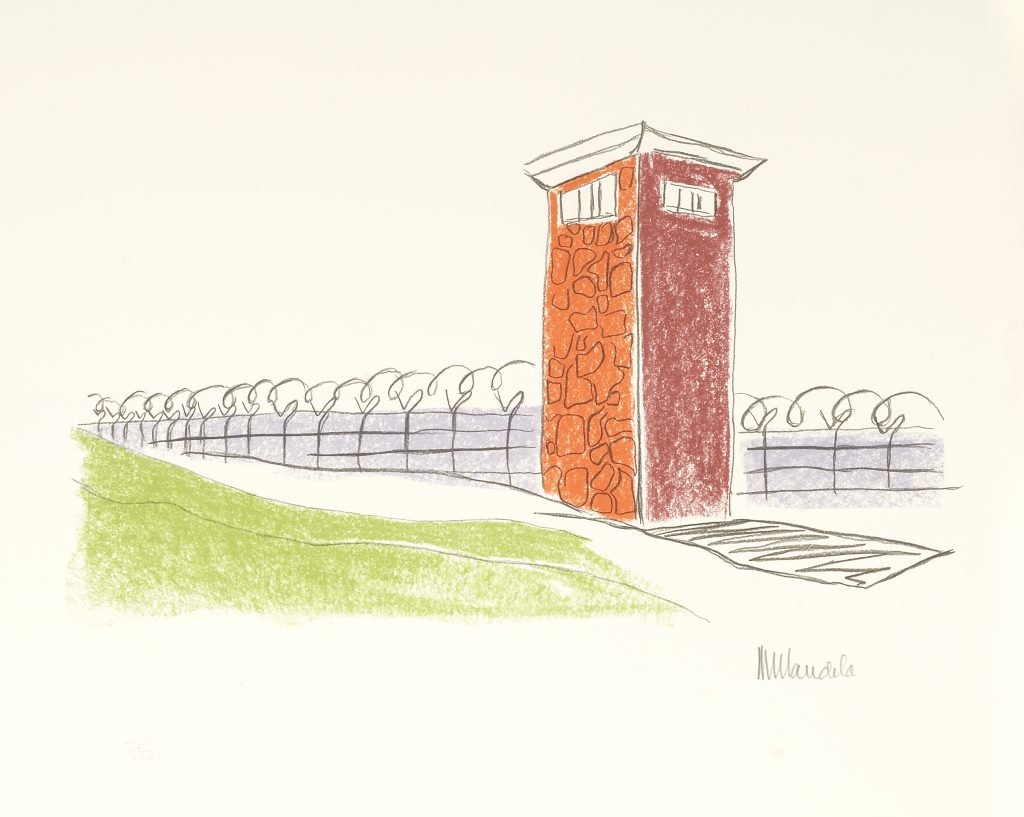 February 18, 2019 (Rocky Mount, N.C.) – Rocky Mount Mills announces a new art and history exhibit "Nelson Mandela: A Light So Powerful" featuring drawings and narratives from Nelson Mandela's incarceration at Robben Island and his triumph as President of South Africa. The collection, which includes several numbered and signed lithographs, will be on display for the public at the Rocky Mount Mills Campus from February 28 – July 18, 2020. Visitors will be able to access the free exhibit via Entrance #2 of the Main Mill during regular public visitation hours, and tours will be self-guided.
Among the 25 pieces in the collection are signed lithographs by Mr. Mandela and artifacts from South Africa's first free election, including campaign posters, photographs, and educational materials that explain the "one person, one vote" election process. Visitors can learn about the triumphant work of Nelson Mandela to end apartheid through the lens of his lithographs. Beyond art appreciation, the exhibit and surrounding events offer learning opportunities related to black history, racism, ethics, world history, and political science.
"This exhibit offers an incredible learning opportunity for the Rocky Mount community, especially for its young citizens," said Nicole Oxendine who coordinates arts and community events at Rocky Mount Mills. "Research has shown the power of the arts to foster social-emotional learning and generate an engaged, positive community. This exhibit exemplifies the power of the arts to serve as a conduit for positive change, and we welcome the community to celebrate the incredible work of Mandela during Black History Month and for several months to come."
The collection belongs to Jim Goodmon, President & CEO of Capitol Broadcasting Co. which also owns Rocky Mount Mills. Goodmon purchased the pieces on a trip he took to South Africa in 2006. The lithographs grabbed him, and he couldn't get them off his mind. He had toured Robben Island – a former prisoner served as guide – and later passed an art gallery. He saw a piece that he knew had to be of Robben Island which caught his attention. He was amazed to find that Nelson Mandela himself had created the pieces and visited the gallery twice that same day. Goodmon was so moved that he abandoned his group mid-tour in another part of South Africa the next day, took a cab back to the gallery, and purchased them.