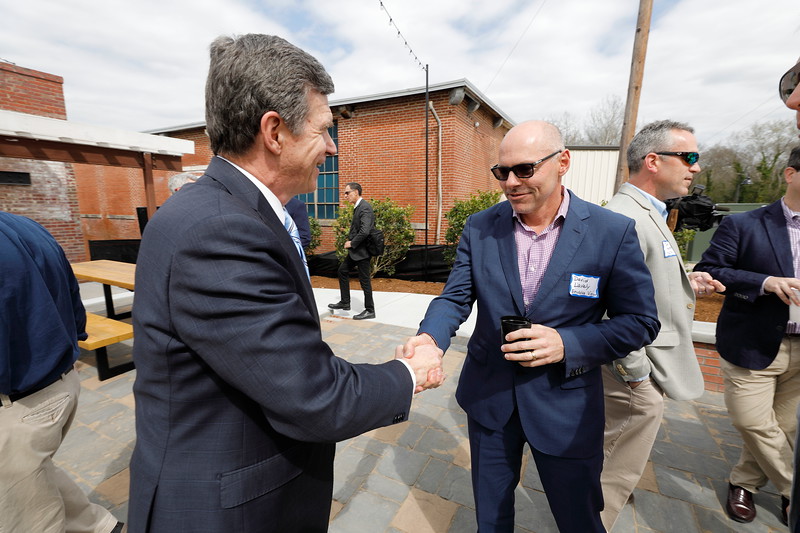 Envolve Vision CEO David Lavely greets Gov. Roy Cooper at a Rocky Mount Mills event.
Rocky Mount Mills, a picturesque 150-acre mixed use development on the Tar River, announced in June that Envolve Vision, the vision benefits division of Envolve, Inc., an integrated healthcare solutions company,  will relocate its operational headquarters to the campus.
Meticulous renovations are already underway to transform a 22,887-square foot portion of the 200,000-square foot historic mill into Class A office space for Envolve Vision, complete with breathtaking views of the Tar River rapids. The company expects to relocate around 120 employees, including its CEO and leadership team, to Rocky Mount Mills by late summer 2018.
Here, Dave Lavely, CEO of Envolve Vision, talks about the the move, recruiting top talent, running along the river and heading out to the beach:
RMM: Why is Envolve moving to Rocky Mount Mills?
Dave: Envolve Vision and our parent company Centene like to invest in the communities where we work and live. So when the option of moving to Rocky Mount Mills came up, it made perfect sense.  We had the opportunity to move to other locations, but the reclamation of the mills, the restoration. It was perfect for everyone.  
RMM: How important is it that your employees love the place that they go to work and how does live-work-play Rocky Mount Mills fit into that equation?
Dave Lavely: It's very important. We encourage entrepreneurship within our company. Ours is culture of engagement. We want different ideas. We're not going to keep doing the same thing over and over. We want things that'll improve the efficiency of our operation. And it helps to have an inspiring place to work to bring out that creativity. Rocky Mount Mills is inspiring. It's eclectic. And it has a lot of good karma.
RMM: What are you looking forward to doing as someone who comes to work here every day? What are you most looking forward to about the Rocky Mount Mills experience?
Dave: What I spend a lot of time doing is building a strong team. It's much easier to build a great team if you have an interesting place to work. And so I look forward to showing off this facility. I think that whenever we have a candidate that is applying for a position, it'll be so appealing when I show them the work site.
RMM: You're a runner. Are you familiar with the running trail that overlooks Rocky Mount Mills?
Dave: Yes, I've run many times on the trail here near the mills. And I've seen the mills probably a thousand times from the other side of the river and imagined what it might become. Once we move in, there'll plenty of folks in the community that will have a view of what will be Envolve's space by way of that trail.
RMM: As wonderful as Rocky Mount Mills is to just park yourself and stay, we're also near the beach and near the Research Triangle Park region. Is that convenience something you and your team find attractive?
Dave: Indeed. The fact that the Interstate 95 and Highway 64 intersect right here, almost right into the mill itself, makes it easy to get around, whether it's north or south, east or west.  And everybody wants to be close to the beach. I envision that over the next 25 years, a lot of folks are going to live in Rocky Mount because it's so convenient.