Randy McQuay live at Rocky Mount Mills, Here to Help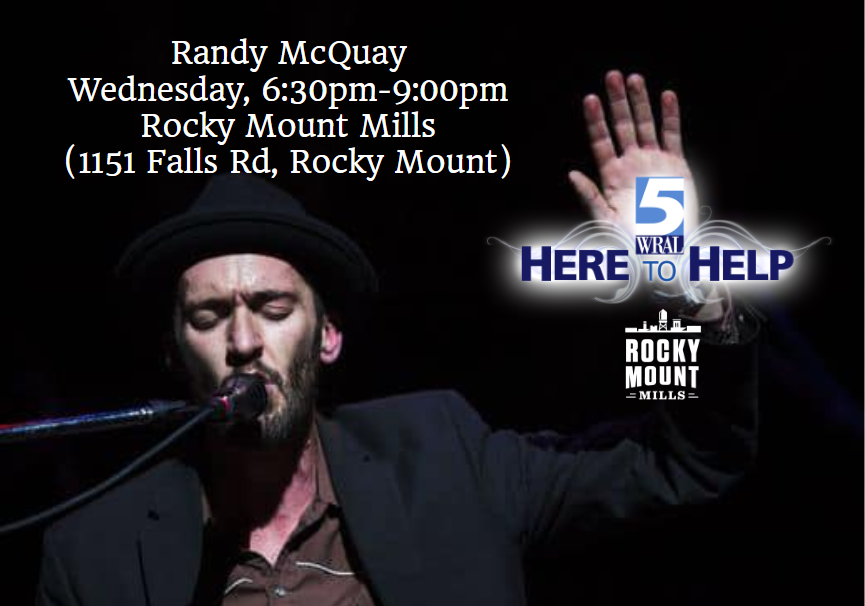 Randy McQuay live at Rocky Mount Mills, Here to Help
Overview
Randy McQuay live at Rocky Mount Mills,
Here to Help
Rocky Mount Mills is partnering with our CBC Family with Here to Help, Hurricane Relief in every way we can! What better way than an evening of great music, delicious beer and food all the while helping our neighbors who are being impacted by Hurricane Florence.
Randy McQuay an International Blues Challenge Winner will be live in the Beer Garden at Rocky Mount Mills on Wednesday, 19th from 6:30pm-9:00pm.
Randy is a storyteller, Bluesman, and a master interpreter of modern American roots music. His band performs throughout the Carolina's and he's a sought-after soloist, nationally known for his evocative takes on rhythm & blues, folk, rock & roll, funk, and roots music." Lan Nichols President, Cape Fear Blues Society
A portion of sales from Rocky Mount Mills' campus tenants will be donated from: Koi Pond Brewing Company, TBC West: Taproom & Tacos, Goat Island Bottle Shop, BDD Brewing Company, HopFly Brewing Company.
Rocky Mount Mills will be a drop off location for Food Bank of Central & Eastern North Carolina on Wednesday.