75° West – In Person Movie Premier Event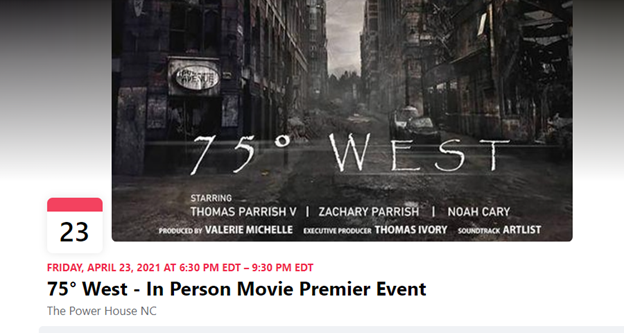 75° West – In Person Movie Premier Event
Overview
Click here for more information or purchase your tickets today.
*** THE MOVIE ***
Civilization has fallen after a prolonged pandemic. Two brothers journey through a post-pandemic world, trying to survive as they cross the US countryside. They journey toward 75° West, surviving as best they can avoiding human dangers along the way.
75° West is written by and stars 16 year old Thomas Parrish V. All scenes were filmed in North Carolina during the pandemic of 2020. Come join us as we celebrate this Rocky Mount created film. Everyone is welcome to attend this exciting event.
*** SCHEDULE OF EVENTS ***
– 6:30 pm Doors Open – Socialize with the stars
– 7:30 pm Premier Screening
– 8:30 pm Q&A with the writer, actors, and director
Family friendly. All are welcome!
*** CASH BAR ***
The Power House cash bar will be open during the duration of the event. Guests are encouraged to responsibly enjoy a beverage before, during, and after the movie.
*** ABOUT THE CONTENT ***
75° West is not rated by the Motion Picture Association of America however the film is written by 16 year old Thomas Parrish V and does not include any adult language or sexual content.
*** ABOUT THE EVENT SPACE ***
The Power House at the Rocky Mount Mills is in the heart of one of North Carolina's oldest cotton mills. The space showcases a bold approach to historic preservation — honoring the past while also breathing new life into the plank floors, stout timbers, and intricate brickwork of this storied place. The film film will be shown on the Power House's jumbo movie screen and heard through their premium sound system. Guests can choose from floor or balcony seating.
*** SUPPORTERS ***
– The Rocky Mount Mills – Presenting Sponsor
– Tarboro Brewing
– Spaceway Brewing
– Koi Pond Brewing
*** COVID SAFETY***
All guests will be required to wear a mask whe not drinking and requested to practice social distancing for the safety of everyone