2023 Dinner Concert Series at The Prime Smokehouse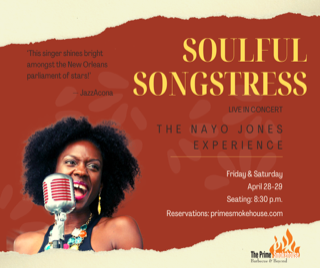 2023 Dinner Concert Series at The Prime Smokehouse
Overview
Prime Announces Spring/Summer Dinner Jazz Series
Currently Taking Reservations for April through August Concerts
ROCKY MOUNT, N.C. – New Orleans Vocal Sensation Nayo Jones kicks off a powerhouse lineup of musicians and singers for the 2023 Dinner Concert Series at The Prime Smokehouse on Friday and Saturday, April 28 and 29. Seating for all concerts is at 8:30 p.m.
Jones, known for her beautiful, rich and soulful voice, is one of the rapidly rising stars on the national and international jazz and blues scene, and she has been compared to such vocal stylists as Natalie Cole, Nancy Wilson and Whitney Houston. She has recorded with the Grammy Award-winning New Orleans Jazz Orchestra and has opened for such jazz icons as George Benson and Chris Botti, among others.
Her most recent project is, "The Nayo Jones Experience Live at the Kerr Cultural Center," which was recorded at the Arizona State University Kerr Cultural Center.
Following the Nayo Jones Experience is the Greg Hatza Organ Trio featuring Saxophonist Brad Collins on Friday and Saturday, June 9-10; Vibraphonist Joe Locke, July 14-15, and the Yoron Israel Band with Billy Pierce, August 11-12.
"People have been clamoring for A-list jazz and blues talent in Rocky Mount, and I love being able to bring in the kind of musicians you usually only get a chance to see if you're living in New York, Washington, D.C., San Francisco or some other major city," says Prime Smokehouse owner Ed Wiley III, son and namesake of the legendary blues and jazz saxophonist. "I encourage music lovers to check out the entire series to get a feel of the variety of excellent musicians who we've signed to perform in this year's concert series."
Seating is limited, so reservations are required. Cost is $25 per night, and seats may be reserved at Facebook/The Prime Smokehouse or at primesmokehouse.com.